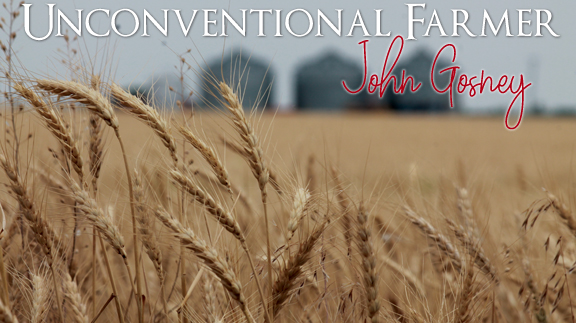 Unconventional Farmer
By Laci Jones
When John Gosney made the transition to becoming a certified organic farmer in the mid- '90s, the owner of John's Farm in Fairview, Okla., did not receive much support.
"The local people here thought I was nuts, so they laughed at me," he recalled.
While many of the other local farmers did not approve of his methods, Gosney and his wife, Kris (Ratzlaff) Gosney, ultimately decided to become an organic farm to meet the consumer's growing desire for organic products and perhaps increase the bottom line of his family's 125-year-old farm.
Gosney's ancestors homesteaded property in northwestern Oklahoma in the 1893 Oklahoma Land Rush. His grandparents experimented with different crops to learn which would grow in Oklahoma and would have the highest yield. They mostly grew wheat, but also tried growing grapes and corn.
"Grapes and corn were usually failures because it was just too dry out here," Gosney added.
The homestead was handed down to his parents, where they grew wheat and raised cattle. Born on April 25, 1947 in Fairview, Okla., life on the farm became second nature to Gosney. Like most farm kids, he recalled hand-milking cows at 5 a.m. and helping his family fix fences and other field work.
When asked about stories of his childhood, he recalled driving the family's four-speed pickup at six years old. He and his father, John Gosney Sr. were on a farm about eight miles from their house.
"We had an old pickup with a load of oats on it," Gosney recalled. "My dad wanted to get both the pickup and tractor home for night."
His father told him to drive the pickup without brakes home over one of the Gloss Mountains. As the six-year-old boy climbed in the pickup, he could barely see over the dash.
"Dad said to put the truck in first gear and cruise down the road," Gosney said.
With his father ahead of him on the tractor, it was a miracle they made it home safely. His mother, Mary Gosney, was not happy when the father-son duo arrived home after the eight-mile journey through Gloss Mountain country.
"I think she was crying when she found out I drove the pickup," he recalled.
While he enjoyed life on the farm driving pickups with no brakes, Gosney was also active in sports, specifically basketball and baseball.
"I went to a country school, Cheyenne Valley," he explained.
When the school closed its doors in 1964, Gosney transferred to Fairview High School for his senior year. There, he met Kris Ratzlaff, and they were married a few years later in 1967.
After graduation, John attended Southwestern Oklahoma State University in Weatherford, Okla., pursuing a bachelor's degree in accounting and business administration.
"[College] was just something to age you I think," he said with a chuckle. "It was four years to mature."
Still, the college student knew he would return to the farm, which he did when he graduated in 1969. He returned to the centennial farm, which his father was still managing.
"Most of what I learned about farming was from my mom and dad," he added. "They used conventional farming practices back then."
Kris' family, the Ratzlaffs, were also farmers. Like Gosney, her great-grandfather staked his claim in the Land Run of 1893. That land has been passed from generation-to-generation. Seven generations have resided on the Ratzlaff Oklahoma Centennial Farm.
Together, Gosney and his in-laws started a custom farming business in 1969. They mostly wheat tilled for farmers in the area, he said.
"It was my father-in-law's idea," the Fairview, Okla., native explained. "We would contract summer field work for different farmers at a set price."
A few years later, Gosney began farming part of his father's land until he officially retired in the mid- '70s. Because Gosney took the reins of his family's operation and rented other land, he quit the custom farming business.
He purchased his own machinery, purchased his own cattle herd and launched a custom harvest business in 1973. Similar to the custom farming business, he harvested wheat for farmers from Texas to Wyoming for a set price, which supplemented his income.
"It wasn't unusual to have some of the old timers come to me to ask if I'd rent their land," he explained. "It evolved from a small, couple hundred acres to several thousand. Thankfully it was a gradual growth."
As every farmer and rancher knows, the agriculture industry is full of highs and lows, and Gosney had his fair share of both. Farmers and ranchers like Gosney were sometimes met with the wrath of Mother Nature.
"Dry weather was a challenge, that's for sure," he added. "It was dry, the soil was parched, and we were begging for more much like we are today."
When their prayers were answered, it was sometimes with an excess of rain or snow.
"We had a lot of large range floods 50 to 70 years ago," the farmer recalled. "I remember the creek banks overflowing; the fields were covered with water and the bridges on county roads washed out."
Snow storms throughout the mid and late 20th century also proved to be a challenge for Oklahoma farmers and ranchers.
"I remember as a kid, my dad would have to take the tractor, and mom and I would follow him in a pickup," Gosney added. "Sometimes we shoveled ourselves out to the road and shoveled more when we'd get stuck. It was amazing how much more snow we had when I was a kid. We haven't had a good snow here in years with a foot of snow that blows 10-foot drifts."
Read the July issue to learn more about John Gosney!