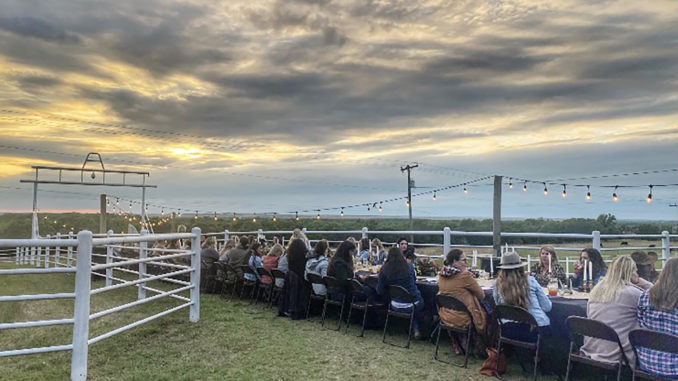 The M5 Entrepreneurs and Rural Revival recently co-hosted a gathering of 75 women from across the United States and Canada in the town of Pawhuska, Oklahoma. All of the women currently own or are working to open small businesses, many agriculturally related.
The three-day event featured speakers from 7 different states discussing website design, social media, networking, shipping, e-commerce, and financial and legal information for small business owners. I was the keynote speaker for the group the night everyone visited the Woolaroc Museum (an Oklahoma treasure and a must see!)
The event kicked off with a beautiful, long-table dinner at the Coy T. Ranch near Pawhuska. The Coy T. features an Airbnb cabin built in the 1900's atop an Osage country hill with stunning sunrises and sunsets.
The casual, fun atmosphere and great food of the Coy T. Ranch evening has me wanting to host a long table dinner at our ranch in Pontotoc county. Host one yourself! Here are some tips for a successful, enjoyable evening for you and your guests:
Don't over think everything! You're not hosting great meal with friends. Choose a time and location. The Coy T. dinner was actually in the driveway! If outdoors, take advantage of a sunset or unique location.
Have tables and chairs to accommodate your guests. The tables on the Osage evening were covered in basic black tablecloths with brown butcher paper rolled down the center of the long table. This was perfect for the mixed-matched silver candle holders with tapered candles that dripped onto the paper and flickered throughout the night. Fresh flower arrangements and deer antler sheds completed the simple centerpieces.
Plan your menu. You can decide how extensive you wish your menu to be. Are you going to prepare the food ahead of time? Will you have someone at a grill? Or will you have it catered? The long table supper we enjoyed was prepared on a Blackstone grill by chefs from Round Rock, Texas. The five course meal included a garden salad, spatchcocked quail, grilled shrimp over cheesy grits, a filet mignon over mashed potatoes with a mushroom cream sauce and chocolate pie with vanilla Blue Bell Ice Cream. So good!
Print your menu for your guests. Each table setting at Coy T. Had printed menu at each place setting and a bandana napkin. The printed menu gives guests an idea of the evening, adds a touch of elegance and makes a nice souvenir.
Give your guests an opportunity to mix and mingle before the meal. We were greeted and enjoyed a large charcuterie board of fruit, crackers and cheeses. Something to drink is also important. Tea, lemonade and ice water are great non-alcoholic options or bring something in with more spirit if you choose.
Finally, consider having servers so you can enjoy your guests and the evening. If you have the dinner in a location without an accessible kitchen, scrape dirty plates and carry home in tubs to be washed (I learned this trick at the Coy T.!). Also, a place for guests to take pictures is a nice touch!
Outdoor gatherings make great memories! I would love to hear from you about your long table dinner or ideas. Feel free to reach out to me at nikki@callisonranchbeef.com or on Instagram @callison_ranch_beef
Plan to get together with the men and women of the  OCA and OCW at the Oklahoma Cattlemen and Cattlewomen's Convention this coming July 23-24 at the Embassy Suites in Norman, Oklahoma.  Everyone is welcome and you can purchase tickets for one or two days of the convention and trade show at www.okcattlemen.org or call 405-235-4391.
Read more in the July 2021 issue of Oklahoma Farm & Ranch.