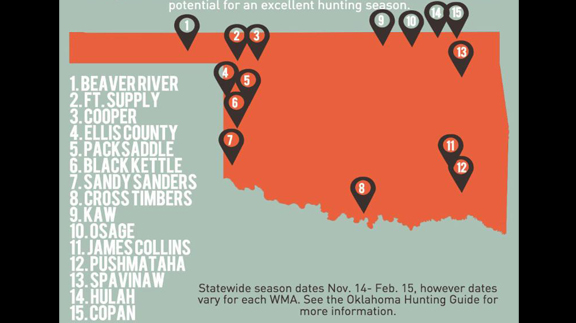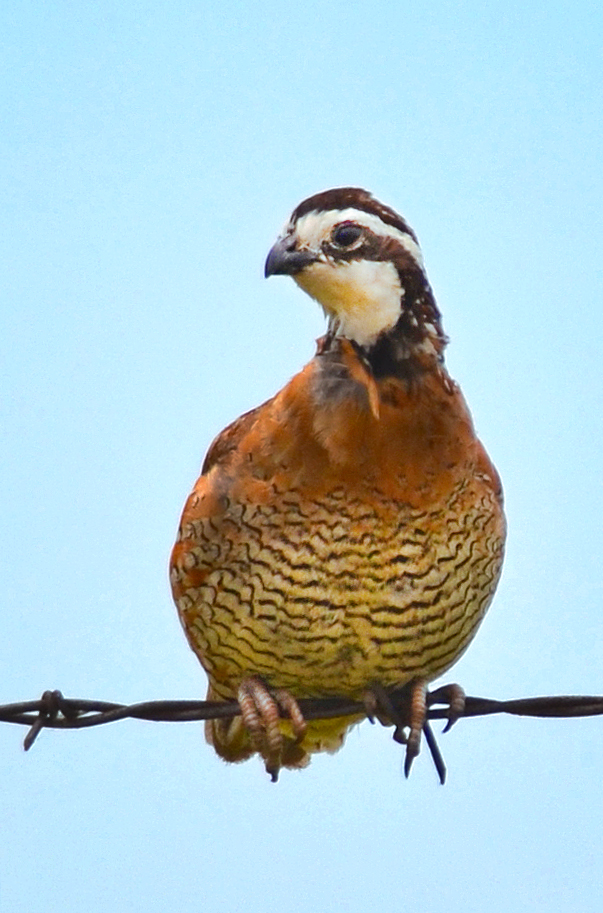 Nov. 20, 2015- Opening weekend of quail season lived up to the high expectations of most hunters in Oklahoma, especially those hunting in western and northwestern areas of the state.
"It was as advertised," said John Bellah, president of the Central Oklahoma 89er Chapter of Quail Forever, referring to the annual roadside surveys and the 2015 Quail Season Outlook produced by the Oklahoma Department of Wildlife Conservation indicating that the number of birds was higher this year.
Bellah, who has hunted quail the past 24 years, said this season's opener was "the best I've ever seen." He was with a large group of hunters in the Oklahoma Panhandle on
Saturday and Sunday, hunting on private land and on a wildlife management area. Altogether, several groups he was with moved about 20 coveys.
He said he spoke with a longtime hunter who told him this season opener was the best he's seen since 1985.
However, the weather was not ideal for the dogs or for shooting. Warm and windy conditions helped the birds, he said. He said bobwhites were behaving like late-season birds. He advised hunters to focus on finding additional coveys rather than going after singles.
Jimmy Clark, president of the North Fork Chapter of Quail Forever in western Oklahoma, also turned in an enthusiastic report after hunting during opening weekend.
"I'd never seen anything like it in my life," he said. "It's just way improved from the last five years. Everybody's excited."
Clark was hunting private land in southwestern Oklahoma. He moved seven coveys Sunday ranging from 10 birds to one that was at least 60 birds. Another hunter he spoke with went to a western Oklahoma WMA for the opener and reported limiting out in two hours.
"It has been awesome so far," he said. And he predicted the good reports are going to entice more bird hunters to venture out. "I've seen some people out buying licenses for quail hunting that I've not seen buying a license in a long time."
David Thionnet of Edmond hunted about four hours Sunday on a northwestern Oklahoma WMA. He said the conditions were troublesome for the dogs, but he still found three coveys and plenty of singles in very thick grass. Cooler weather will help in bagging more birds.
Weston Storer, wildlife biologist in the Panhandle, echoed the good reports being heard from hunters. "It's the best I've seen in the five years I've been here," he said. "It's really good, but we need some other factors."
Opening weekend conditions in the Panhandle were warm, dry and windy. Storer said hunters at a nearby WMA were moving plenty of coveys — two to four per hour — but not harvesting a lot of birds. Covey sizes ranged from 15 to 40 birds.
"One group of hunters moved eight coveys, but only killed two birds," he said. Ample ground cover and poor scenting conditions were also making it hard to locate downed birds.
When cooler, calmer and wetter conditions arrive, Storer said the bird hunting should become even better than it is already.
Hunters looking for places to hunt quail will find many quality opportunities on public lands managed or owned by the Wildlife Department.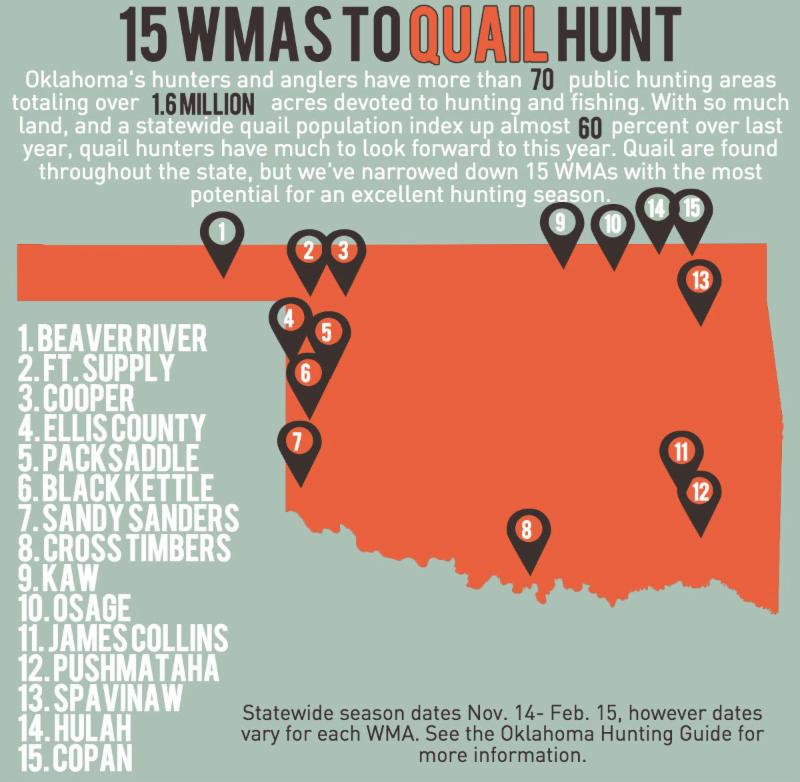 Quail hunting season will remain open until Feb. 15, 2016, but seasons on public lands may vary from statewide seasons. Many of Oklahoma's WMAs are closed during the first nine days of deer gun season, this year from Nov. 21-29. Resident and nonresident hunters are required to have an appropriate hunting license and wear daylight fluorescent orange clothing as required. For details, consult the "Oklahoma Hunting" regulations guide online at wildlifedepartment.com or in print where hunting and fishing licenses are sold.
###
The mission of the Oklahoma Department of Wildlife Conservation is the management of Oklahoma's wildlife resources and habitat to provide scientific, educational, aesthetic, economic and recreational benefits for present and future generations of hunters, anglers and others who appreciate wildlife.
News Contacts:  Don P. Brown, donald.brown@odwc.ok.gov
Micah Holmes, micah.holmes@odwc.ok.gov
Website:  wildlifedepartment.com
Telephone:  (405) 521-4632
This program receives federal assistance from the U.S. Fish and Wildlife Service and thus prohibits discrimination on the basis of race, color, religion, national origin, disability, age and sex (gender) pursuant to Title VII of the Civil Rights Act of 1964 (as amended), Title IX of the Education Amendments of 1972, the Age Discrimination Act of 1975, Section 504 of the Rehabilitation Act of 1973, and Title II of the Americans With Disabilities Act of 1990. To request an accommodation or informational material in an alternative format, contact Oklahoma Department of Wildlife Conservation, (405) 521-3851. If you believe you have been discriminated against in any program, activity or service, contact U.S. Fish and Wildlife Service, Office for Diversity and Workforce Management, 5275 Leesburg Pike, Falls Church, VA 22041.