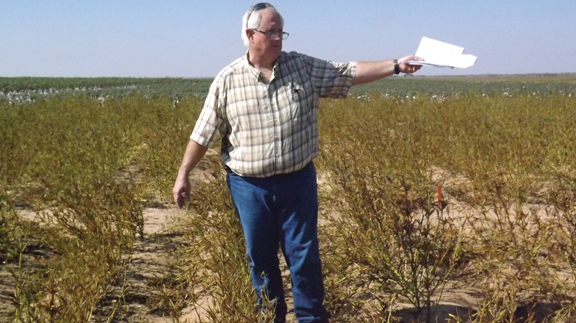 By Everett Brazil, III
Oklahoma has a variety of crops grown throughout the state, which includes cotton, corn, wheat, sorghum, soybeans and canola. They have long proven themselves as viable for production on the Southern Great Plains. Many other potential "specialty" crops can be grown, however, which could help producers diversify.
"A specialty crop is something that is outside the 'norm,' when we think of common crops," said Steve Upson, a senior horticulture consultant at the Noble Research Institute. "Specialty crops tend to be the vegetables, the fruit, nuts, turf, nurseries — crops that are very intensively managed, and labor would be higher."
While some operations tend toward monoculture, especially with cotton or wheat, some producers may be interested in adopting alternative, or specialty crops, due to how it could improve their operation.
"You get a little better return per acre," he said. "We find that a lot of people who do not have access to a large amount of land and are willing to sweat a little bit can make a supplemental income with specialty crops. In Oklahoma, a lot are sold locally, and that is a farm stand or a you-pick operation, and some have a prescription farm — consumers will pay up front for a share of the product; it takes the financial risk out for the grower."
The Noble Research Center as well as Oklahoma State University have experimented with specialty crops across the state to see what works well for different regions. Two crops potentially viable for Southwest Oklahoma, for instance, are sesame and guar, which have been studied at the Southwest Research and Extension Center, Altus. Gary Strickland is the Jackson County OSU Extension agriculture educator, Altus, Okla., and has been studying sesame for forage opportunities but also sees the potential for grain production.
"Sesame is one of those crops that is very drought tolerant — it doesn't require a lot of water to produce," Jackson said. "Once you get it established, it can do quite well in adverse conditions."
A second benefit, Jackson said, is that it also serves well as a rotation crop, including cotton, wheat and corn. It is also low-cost.
"It's a fairly cheap crop to grow, and so our production inputs can be kept lower," Jackson said. "Under limited irrigation, you gain average 800 to 1,200 pounds an acre."
Jackson has also looked at guar, which is a popular crop in Texas, and has recently made inroads into the Sooner State.
"It's done very well in the arid conditions," he said. "It's a drought-tolerant crop, and we're trying to find rotational dryland crops that could be produced in the area."
Producers wishing to adopt specialty crops should first consult with the OSU Extension Service as well as USDA-Farm Service Agency (FSA) and Natural Resources Conservation Service (NRCS), and they can find expertise as well as assistance and literature to aid in the adoption of specialty crops.
NRCS provides assistance through the Environmental Quality Incentive Program, while FSA can provide some funding assistance.
Read the June issue to learn more!